Trixie Bustamante Arya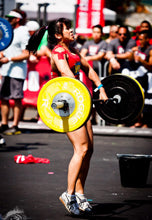 I started CrossFit in 2008 at Valley Crossfit. My first workout was Fight Gone Bad and I hated every minute of it. After the workout, I knew that this was for me. I began to training regularly and got my family involved. My husband finally started in 2010, and my daughter is currently doing CrossFit Kids. What better hobby to share with your family? We all get to hang out with our friends at Valley CrossFit.
I'm also currently coaching part-time at CrossFit RepScheme.
Competition History:
I have competed in Next Level comps. I placed 1st in one of them.
I have competed as an individual at SoCal Regionals in 2011, and Team in 2012.
I also qualified for OC Throwdown 2 years in a row.
Goals:
One of my goals it to continue learning so I can keep coaching and helping other people meet their goals in health and fitness.