JB Chaingan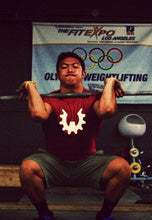 I began CrossFit in October 2011 during a personal hiatus from Amateur Muay Thai Kickboxing and Mixed Martial Arts and the competitive aspect kept me around. I registered for my first Next Level Invitational Event six months later and took First place at Division-III; and ever since then my passion for CrossFit skyrocketed! In May of 2012 I acquired my CF-L1 Certification and now I have found even more reward out of using my abilities and knowledge to further the athleticism and ability of all my teammates and friends!
My first experiences with CrossFit were in Pasadena, at the home box of Gabriel Pelino, so from Day One, WOD Gear has always been synonymous to me with the CrossFit Movement and Community. Being able to support the brand now as an athlete and a coach is a privilege and I look forward to representing WOD Gear in a positive light!
Prior to CrossFit, my athletic accolades include over 10 years of experience in Muay Thai Kickboxing and Mixed Martial Arts, and JUCO experience as a Track and Field Vaulter for the Pole Vault.
Competition History:
Next Level Invitational Division-II Winner (2013)
Next Level Invitational Division-III Winner (2012)
Throwdown In The Valley Division-I, 5th Place (2013)
WOD Gear Team Series Competitor
BattleFit West Qualifier
Certifications:
CrossFit Level-1 Certified Trainer
USA Track and Field Level-1 Coach
Muay Thai Kickboxing Coach under Kru Joseph Del Real
Follow me at: @jbc_17 / @KineAthletics