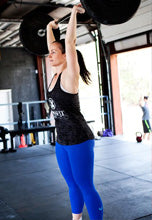 When I first tried CrossFit, I had recently run a half-marathon and thought I was in great shape.  That lasted until about 5 minutes into the first workout.
The first CrossFit workout kicked my butt.  It completely defeated me…but just made me want to try that much harder.  I became passionate about CrossFit and the idea of competing with my own goals and PR's within a supportive community in Southern California.  After chasing a dead-hang pull-up for over a year, the feeling of pride I got when I finally completed it was indescribable.  
As a military spouse, the community CrossFit provides is invaluable to me.  Within the first week that my husband and I moved to our new duty station, we already had a community of new friends at Port City CrossFit in Wilmington, NC.  While traveling, I love dropping into other boxes around the country and meeting new people.  I love CrossFit and WOD Gear and am proud to represent this company!
Goals:
- As a teacher, I would like to inspire my students to live a healthy and active lifestyle. I want to continue to grow stronger and never stop pushing myself to my limits!