Raven Harrington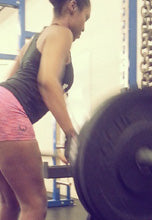 Raven Harrington is a Private Personal Trainer, a Published Fitness Model, the Los Angeles Gaspari Nutrition Representative, and an Experienced Choreographer living in Pasadena, CA.

She was raised in Annapolis, MD, and attended an International boarding school in Pennsylvania focusing on the arts, where she earned a scholarship to California's Azusa Pacific University. There she earned her BS in International Business with a minor in Ethnic Studies, and met her Natural Bodybuilder husband, Michael Harrington.
Dance was Raven's passion from childhood until a ligament tear at age 17, put her out of action. She turned to Fitness to keep in shape and to help others prevent possible career ending injuries. At age 25, she became an NPC National Level Bikini Competitor, taking 2nd Overall in her 1st NPC regional level show. You can find Raven inside the pages of Oxygen Magazine, Iron Man Magazine, Jillian Michaels "Hardbody" DVD, Team Edge Booty Extreme Workout DVD/Program, Power Music Group Rx, and more!