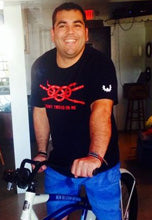 I've always been an athlete, but my journey has taken a lot of twists and turns along the way. In HS I played football and soccer, but when it came time for college, I put a pause on my sports life and concentrated on my academics. It wasn't until I was about half way through college that I realized how integral sports were to me and how much I really missed that athleticism and competition. So, I joined an intramural soccer team and enjoyed some friendly competition for the remainder of my college years. During this time I also took a liking to golf and became a quick study and would practice almost every day.
After college I felt a bit lost so I decided to take up running again and focusing on my cardio, while incorporating some weights. My wife and I both made due with what equipment our apartment complex provided at the time, but it just wasn't enough and we both knew it. Although we were part of a country club and we golfed fairly regularly, it just wasn't enough for us and we knew that we wanted more out of fitness!
We both had heard about CrossFit before, but never had the opportunity to try it. That soon changed...Fast Forward a few years to where we are today. CrossFit has changed me in the best way possible. I feel like a new person mentally and physically. I'm constantly setting new goals and hope to place in the top 3 for my next competition! 
 I have competed in:

Hthown 
throw don II ( team comp) 
Oktoberfest obliteration V
Fittest Summer