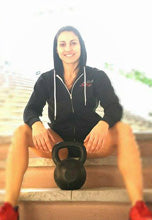 I have always loved sports since I was a little kid. I have started at the age of 10 with bale, gymnastics and athletics and continued with gym and weight training for the following 14years.In 2009 I joined a rugby team in Malta and played for 4 years. Later in 2012 I discovered crossfit and it has been the best way that I have ever trained as it challenges me mentally and physically. It is since the first day that me and my husband tried out the first crossfit wod Cindy that Crossfit is my primary method of training .I love the fact that it involves gymnastics too as it was my favourite sports growing up. Crossfit makes me feel stronger and believe in myself more than I ever did. Every time I work out it is just me against me I always want to beat myself. I also love to train with my husband as he always give me a good challenge when we workout together. We have a son who is 5 years old and he also loves to train and try and do whatever he sees us doing.
I am a CrossFit Level 2 Trainer and has attended seminars in Crossfit Level 1 Trainer in Manchester, CrossFit Coaches Prep course in Milan, CrossFit Weightlifting in London, and CrossFit Kids in Whales. I began coaching because I truly believe in the benefits of fitness in our lives I want to help other athletes meet their goals and to be successful in their training. My passion is to see athletes of different levels moving better and getting fitter and faster everyday.
Competitions
The Rock Throwdown Malta 2014 – 1st place
The Italian Throwdown 2014 – 16th place
Powerlifting competitions Malta – Holds National Records 58 kgs and 63 kgs catergory.