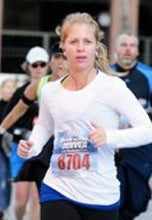 My name is Laura Goldin and I am a Colorado native. I went to Purdue University for my Undergraduate Degree and the University of Colorado at Denver for my Masters Degree. I am currently a technology integration specialist at Ben Franklin Academy. Before this position, taught 4th grade for 4 years. I am the middle school cross country coach as well as the girls soccer coach for my school.

I am a former soccer player, I have run 4 half marathons and participated in many other races. I started CrossFit a little over a year ago. The reason I started CrossFit is to become a stronger person, balance my running addiction better, and I have to say, it was the best decision I have ever made. Not only did it take my fitness to a whole new level, but my attitude, eating habits and social life also changed for the better. I have learned so much about what it means to be strong, healthy, and happy.
Half marathons:
Boulder Spring 1/2 marathon 2010
Rock N' Roll  1/2 marathon Denver 2011
Colfax 1/2 marathon 2012
Georgetown to Idaho Springs 1/2 marathon 2012
Other races I have participated in:
Columbine Remembrance Run 5k
Turkey Trot 4 mile
Fans on the field 10k
Liberty Run 4 mile
Frosty Frozen 10 mile
Snowman Stampede 10 mile
Cherry Creek sneak 5k, 5mile and 10 mile
and many more...
Fitness Goals:
Pull-ups
Double Unders
Handstand pushups
More running races!