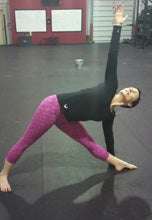 My name is Kate and I have been practicing yoga for over 20 years and teaching for 15.  I am a massage therapist specializing in NeuroFascial Release and Restorative Movement.  I do a lot of work with athletes helping to keep them injury free.  I also teach Yin Yoga for my local Crossfit Gym, Crossfit PR Star.  Lifting weights and staying strong is an important part of keeping me healthy and balancing out my flexibility. 
Goals for 2015:
Handstand in the middle of the room
Pistol Squat
Sharing the benefits of Yin Yoga to the Crossfit world!