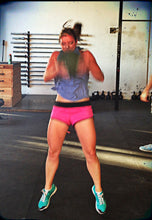 My name is Erin Wahlen, or E-Dub if you prefer, I grew up in Northern California around horses and cattle and currently live in sunny Southern California. Yep, I'm a country girl at heart living at the beach.
Unlike many crossfitters, my competitive nature didn't come from playing team sports in high school or college. Rather, it came from showing Quarter Horses throughout California and competing in public speaking contests and FFA competitions. I was introduced to globo gyms in college and continued to hit the ellipticals and stair climbers religiously after graduating until a friend and crossfit coach in Newport Beach convinced me to break the cycle and try out crossfit. My first class was at 6 a.m. on March 17, 2010 and I haven't looked back since!
I train at CrossFit Balboa in Costa Mesa, CA (also known as the CrossFit Football Headquarters) and not that I'm biased or anything, but I truly believe we have some of the most knowledgeable and talented coaches in the business. Not only do our coaches hold a higher understanding of crossfit fundamentals and proper movement techniques, but they also instill a deep appreciation for the sport. They're the real deal.
I entered into my first two crossfit competitions last year and am excited to compete more this summer. I've developed some of the best friendships (and even met a pretty cool guy I'm stoked to call my boyfriend) at our box and I'm so proud to be a part of a family where each and every day we're pushing ourselves to the limit while being surrounded by the best cheering section there is.
Competition History:
2013 CrossFit Games Open
2012 CrossFit Games Open
2012 CrossFit Football Occupy Strength- SoCal
2012 Summer Shakedown Team Comp
Goals:
Compete in at least two team comps this summer
Qualify as a team for the 2014 SoCal Regionals
Continue daily improvement of my weaknesses