Emily Cabral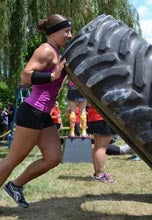 I'm currently a college student pursuing a degree in nursing. I started Crossfit about a year and a half ago in Alaska while I was finishing up my time in the Army on active duty. I fell in love with Crossfit after competing in NPC figure and bikini competitions. Crossfit was a healthier lifestyle for me and I love getting stronger and meeting the goals I set for myself to accomplish.
Competition History:
2012 Mid Atlantic Regionals- Crossfit 610 team
2012- Test your metal- 3rd place
2013 fight for food- 1st place
2013 Mid Atlantic Regionals- Crossfit West
Chester Team member
Goals:
I would like to make it to regionals as an individual by 2015. I want to continue to inspire others to live a healthier life. Maintain my 3.8+ GPA.