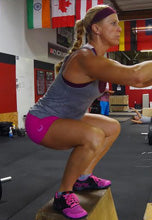 I started my CrossFit journey/transformation two years ago.  I am 51 years old and I have a passion for this sport like no other.  CrossFit positively impact every aspect of my life. I have been in law enforcement 29 years and am in a high stress job as the Chief of Police in a mid-size, extremely busy, diverse community in Northern California.  I was an NCAA track and field athlete in college and I continued my competitive endeavors in the Police and Fire Olympics throughout my career. CrossFit has provided the perfect avenue for physical, mental, and spiritual fitness.  I am currently training to be a Master's athlete in the Reebok CrossFit Games in 2015 and this ambition fuels my perseverance, determination and drive on a daily basis. 

My favorite quote when asked how I manage to train, work 60+ hours a week, take care of my aging Dad, and support my family is "we always make time for what is important!"
Goals:
Inspire, motivate, and help others
Be better than yesterday
Give back to the CrossFit community that has given so much to my family and I


Bulleted below is my competitive history in CrossFit since January 2013:
NorCal Masters in 2013: first competition ever and "Top 5"
Merced Holiday Throw-down in 2013: 1st place  
NorCal Masters 2014: 8 former Games athletes competed in my age bracket-2nd place
2014 Open: 32nd going into the Masters Qualifier (regional for Master's age brackets) - 34th in the world.
2014 Masters Functional Fitness League on-line competition: 1st place in the world
Featured in Reebok CrossFit media article outlining my CrossFit journey:
http://games.crossfit.com/article/police-chief-balances-work-and-crossfit
I am the proud mother of two amazing young women, one of whom is a police officer in San Diego and also an avid CrossFitter and my youngest who is in college in San Luis Obispo.