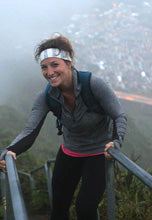 My life? My mission? To eat life and its experience right up. To cook good food. To inspire. To work on my muscles. To share my successes and hardships.
What drives me? Exploring. Hiking. Working Out. Traveling. The people who surround me.
I'm a dreamer and motivator. I always feel like there's MORE to life. Born and raised in Green Bay, I adventured out to Southern California shortly after college. Being an athletic and outdoor adventurer with a love for sports early on, I played competitive soccer for 10 years, have run several half marathons and have participated in many strenuous hikes through but not limited to, The Grand Canyon, The NaPali Coast and Zion National Park. In 2011, post-full marathon training I didn't want to run another solid mile for a long time – I completely fell off the radar not wanting to run and workout. I reached out to the CrossFit community unsure of what I was in for. Day one I signed the contract and have been committed ever since. Through being a part of a solid gym in Southern California, the positivity and challenge inspired me to pursue a coaching career to motivate and assist everyday athletes to excel in their own personal achievement, to achieve something they didn't think was possible.
I coach it. I lift like everyone else. I have good days and bad days like everyone else. CrossFit emphasizes strength and I think that is so empowering, especially in women! Rather than "I need to lose 10#", I say, "I need to add 10# to my back squat!"… and that to me, is SO much more rewarding and a healthy goal.
I love hiking. I love exploring. I love CrossFit. I love WOD Gear. I love the community of this up and coming fitness world.
Competition History:
Frogman Competition; Southern California September 2011
Goals:
• Muscle Up
• 200# Back Squat
• 100# Snatch
• Precision Nutrition Certification
• CrossFit Kids Certification
Follow me: @courtneyfordendurance