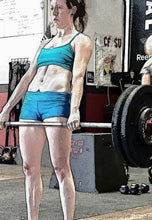 I started my CrossFit journey in April 2013 because I was tired of not being able to lift a gallon of milk out of the fridge! I also had extremely stressful tragedies back to back and this sport quickly became my outlet and lifeline. I strongly believe I am a very relatable athlete and can inspire many girls in my position who are very skinny /  hard gainers.
In the beginning phases of my journey I felt very alone because I was the smallest girl in my gym (or any gym for that matter). I had no one to share my thoughts or concerns with as most people lie on the other end of the spectrum trying to lose weight. I still struggle with being "small" but I am intensely driven to succeed and not give up, despite the obstacles and tears I sometimes face while chasing RX. I love the CrossFit community but there are not enough "small" girls such as myself to let the rest know what we are capable of becoming!
CrossFit has literally saved my life and equipped me mentally to handle any hardship in my path, as well as physically… because I can now get TWO gallons of milk out of the fridge if I needed it! I still get nervous standing at my barbell when the 10 second count down begins for a WOD but even when I want to give up – I don't. The feeling of accomplishing something I didn't think I physically could is the most mentally gratifying gift I could give myself time and time again. I want to show women that you can start from nothing and make yourself something.