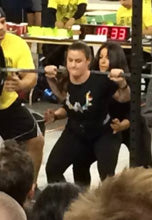 I grew up playing sports, and being active has always been a huge part of my life. At a young age I started gymnastics and competed for 5 years. About to go into high school, I decided I wanted to have more of a social life and the opportunity to try other sports. During high school I participated in diving and rowing and found that my gymnastics background really helped me in both of these sports. After graduating high school, I went to college, still loving to exercise but was stuck in a rut, not having a sport to participate in anymore. I resorting to running, which although unfulfilling, kept me "in shape". In August of 2010 my husband brought me to CrossFit Folsom Lake, and I have been there ever since. My love for competition came out!! In March of the next year my coach, Jason Jared, told me to try competing in Sectionals just for the experience. I never thought I would end up qualifying to Regionals! My goal is to continue pushing myself and mastering new skills in CrossFit! I love every minute of it!
Competition History:
CrossFit NorCal Sectionals 2010
CrossFit NorCal Regionals 2010 - Team
CrossFit NorCal Regionals 2011, 2012, 2013 - Individual
Goals:
Continue to push myself and give regionals another shot next year!