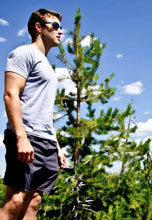 I am originally from Chicago and moved out to California when I was 18 to pursue the illustrious and elusive career in the entertainment industry. Growing up, I was a sports junky and eventually found passion and excellence in gymnastics and diving, competing in state competitions the last two years of high school. I thrived on work and competition and particularly enjoyed the individual accountability of both sports. 
In Los Angeles, despite high hopes, I was limited to just a couple claims to fame over a few years time, the pinnacle being a commercial spot in "How Jenny Russo eats a Reese's" (
http://youtu.be/zQCuT0TOXcQ
... if you look really closely...yep...that's me on the platform holding the Reese's with amazing precision!). After a few years of rejection, I discarded the head shots and resumes. The move to LA was not for naught, though, having found my beautiful wife and a career in technology I love. 
Though the entertainment industry lost its luster, my passion for sports and fitness never left. I've continued to find different challenges over the years - hockey leagues, basketball leagues, P90x challenges...always something new. Last year, after running two marathons and four half marathons, I was ready to challenge myself in a new way and found CrossFit Crown City. After a week of torture, I was hooked! The CFCC coaches are top notch and some of the best in the business. One such coach, Cody Vella, saw that my interest in CrossFit went beyond the desire to get in shape...I wanted to compete. I wanted to capture those competitive juices from my gymanastics and diving days. Seeing that drive, Cody and the CFCC box took me under their collective wing and have been guiding me on a rigorous journey toward competition. 
My journey is just starting but my goals are all-encompassing to continue driving through the ranks of NLI and possibly regionals. 
Goals: 
Podium in Division III NLI competition 
Progressively move through Divisions II and I at NLI
Improve as an athlete and possibly drive towards coaching in the future
Inspire others to be fit and maximize their individual potential!