Robyn Bennett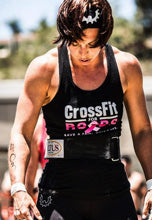 I discovered CrossFit like many people do...by word of mouth. I didn't  grow up playing sports and definitely did not consider myself an athlete of any kind. I was running a bit for fun and decided to explore some new options for strength training to improve my endurance game. I read Greg Glassman's "What Is Fitness" article, then immediately called my local affiliate, CrossFit San Elijo, for my first assessment. I walked into the CFSE box on March 18th, 2010 and it changed my life forever. Now I'm a L1 coach, athlete and competitor, and in the best shape of my life.

The biggest challenge I faced came unexpectedly in May 2010, when my Mom was diagnosed with breast cancer. It was a wake up call for me to ensure I didn't waste time THINKING about doing what I wanted, rather start DOING IT…and using my Mom's strength and perseverance as my fuel.

I'm fortunate to work for a breast cancer non-profit organization called Barbells for Boobs and help women (and men) get access to early detection services in the fight against breast cancer. But my proudest role is being a Mom of an amazingly fun-spirited and very active son. He's a firebreather in training and my greatest joy and inspiration!
I am so grateful and honored to be a part of such a rich community of people in CrossFit and can't wait to see what else is yet to come as I continue this journey!

GOALS:

Constantly improve, get stronger with age, and share my passion for health and wellness with others in a fun and inspiring way.