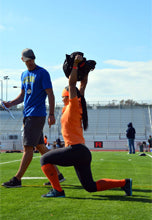 I am Rachel Espino, and I was born and raised in beautiful sunny, Southern California. For as long as I could remember, I have always wanted to try anything and everything that would get me moving. As a child, it was rollerblading, street hockey, tae kwon do, and softball. As a teenager, I played varsity tennis in high school and loved to dance, more specifically "b-girling."
As I progressed into my early to mid 20's, I found myself trying to find the next best craze to get me going –gym ratting at the globo, tae bo, p90x, hip hop abs…you name it, I tried it. I hit the point where I was no longer being challenged and needed something that would reawaken my innate competitive drive. It was then that I was introduced to CrossFit by one of my best friends. I had my first introductory WOD on January 19th, 2011 and was instantly hooked. I got the best workout of my life in a quarter of the time that my old work outs used to take, and I have not looked back since.
CrossFit has without a doubt changed my life for the better. The best thing about CrossFit is the community! It's cool meeting and hanging with people who continually support and motivate one another. CrossFit Moreno Valley is my second home and is one of, if not the highlight of my day, everyday. I love my CFMV fam!
When I'm not at the box, I am a Registered Nurse at Kaiser Permanente in the Intensive Care Unit...saving lives! I have always loved helping and being the shoulder for people in their times of need, so Nursing has been a perfect fit for me. I received my CrossFit Level 1 Certification in August 2012, and I have been excited to share the CrossFit methodology with others as well as further expand/fine tune my CrossFit knowledge base.
Last but not least, Go Team WOD Gear! I have been a fan of WOD Gear from the get go, and I am truly honored to be part of an amazing team.
Competition History:
California Affiliate League's Saturday Night Lights 4.27.13 (RCCF) - 2nd Place Intermediate Division
Next Level Invitational (NLI) Iron Will Series 2012 – 3rd Place in D3
Battle of the Boxes 2011 – 15th Place in Team Intermediate
Goals:
Complete every CrossFit Benchmark WOD Rx
Qualify for Southern California Regional Games someday!