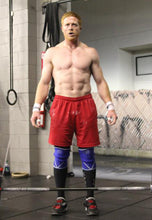 I am a dedicated, goal driven person and coach. My success started in high school, where my high school football team won the State Championship in 2000. My coach prepared a twelve-step goal board that helped start my passion for writing out goals.
I was recruited to play at William Penn University (Statesmen) where a winning season hadn't been touched in 25 years. My goal…"We will have a winning record before I leave." In four years as a player, the team continued to improve, but we fell short at 5-6. I had the opportunity to return to Penn as the wide receiver's coach in 2005, the position I played through college. That season, the Statesmen had their first winning season in 29 years.
With success in these goals, I moved on to my next goal: living in Los Angeles, CA. I have lived here since 2008. CrossFit came through my Mom and my sister, Anne. Anne has been an active CrossFitter since 2009 and was a top 100 competitor in the CrossFit Games Open (2011 and 2012). Anne and I share a passion for helping people and a deep desire to give back to others in the community.
Working at CrossFit Eagle Rock allows me to stay active, coaching and helping others improve their lifestyles. Everything we do is a choice we have made; creating a documented path allows us to make educated choices. CrossFit Eagle Rock is an everyday lifestyle. Live well!
I helped create and start the WOD Gear Team Series in 2011. Brainstorming ideas with Gabriel, Scott and the rest of team, we set a standard we will continue to strive for. I enjoy working with the other top CrossFit Box owners and leaders in the community, designing and building the Team Series events.
Qualifications:
Owner, CrossFit Eagle Rock, Los Angeles, California
CrossFit Level 1 Certified
Red Cross – CPR, AED and FIRST AID Certified
William Penn University, B.A.
Wide Receiver Coach, William Penn University
Former College Football Player
X